Facebook Messenger is fast, mobile, and efficient, which makes it a great tool for business/customer interactions and a valuable platform for customer care and Social Marketing. But when Facebook messenger is integrated with your website than it becomes a power storm of interaction.
Did you know that 2.5 billion people registered in 2015 to the Facebooks messenger app. This is set to increase to 3.6 billion by the end of 2018. The Marketplace for users to connect with will continue to grow and Facebook has become the number 1 Social Medium platform for people and businesses.
Now imagine if you could interact directly with your customers from your website and connect with them via Facebook messenger?
Well now you can, we have the Social Integrations to make this happen. We can link your Facebook Page to your website and a Messenger Chat pop-out window will be available for new leads, existing customers and customer support care. You can start the conversation right from your website.
The possibilities are endless, but take a look at this real world scenario. You could answer a customers questions or query about a product or service and convert the lead to a sale. This works well with on-line stores, and e-commerce website.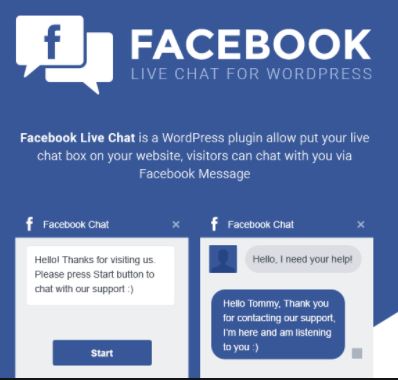 Perhaps a customer has a support question or issue but is not sure which channel to reach out to, they could simply start a Messenger Chat session straight from your website where they could be guided to raise a support ticket.
Not only can Facebook Messenger improve customer care efficiency, there is now automated Chatbots that can be programmed to keep your customers up-to-date with the latest news, view latest products, take orders, buy products and receive information delivered straight to their messenger inbox. With pre-programmed answers and responses, automation for the common queries can be answered with you not having to be there!
If you thought email marketing was an efficient way of marketing, then Facebook messenger with Chatbots is email marketing on steriods. The Marketing landscape with communicating with your customers is changing. Don't get left behind, there is a massive opportunity right now to connect with new customers, and provide a truely one stop shop for communication between your website and Facebook.
To find out more, please contact Adelaide Web Design Marketing for a Free consultation.
Social Media Messenger integration to your website