If you liked it.. Share it!
The 13-Step SEO Audit Checklist for 2021
So you want an easy step-by-step way of doing SEO for your website.. Right?
Imagine if there was an easy SEO Audit Checklist that could be followed with no experience. Well the good thing is… We have done it for you.
Got rid of all the fluff and technical jargon and get straight to the point with the "13-Step SEO Audit Checklist" that has been updated for 2021.
If you want to rank higher in Google, then you'll love these actionable steps in the Free SEO Audit Checklist Download Get it below!
Simply like and share this post above and then Click Download Now below and then you will receive it!

Don't forget to try the SEO Audit Review Tool which will do all the Checks for you!
Read on to Learn more about the
The SEO Audit Basic Checklist
Step 1: Check to see if your site is already indexed by Google
You have built and awesome website that you have been working on and you want everyone to find it.
But what good is to anyone if it can't be found on the Search Engines like Google and Bing. It should just happen right?
Well not exactly. Google doesn't automatically list all websites in Search and there may be a technical reason why it's not being listed.
So the first thing you need to do is enter this into the Google Search box
site: yourwebsiteaddress.com.au
You might find only some pages or only the homepage is listed on Google, but what about all my other cool pages of content I have on my site not being listed?
Or worse, no listings are coming back when your do a search on your website?
Go to Step 2, and let's discover why you're website is not showing in Google.
Step 2: Not Listed in Google? You better perform a Free SEO Audit Review
It may be a simple fix to resolve the issue for not being listed in Google, but it will take some SEO tools and Discovery to find the problem and you should rectify it as soon as possible.
Head on over to SEO Audit Review website and enter in your website URL address
This site instantly analyses your SEO Issues in a flash, and helps identify your mistakes and better Optimizes your site content. The good news is, it's totally free!
The Free SEO Audit Service, will produce a SEO Audit Review Report in 60 seconds of your websites technical SEO health.
It checks all the common technical issues and identifies what is needed to resolve the issue.
Step 3: Check to see if Google can access and crawl your website (robots.txt)
Accessing your website for the Google Bots to crawl your website requires you to explicitly allow them to index your website. Having a robots.txt file in the root of your website directory with the correct syntax will give the search bots the green light to crawl your sites pages.
If your website is not showing up in Google, we need to check this to see if your website is allowing the Google Bots to crawl your website and index your website.
Below is a tool that can check to see if your site or page is configured and is indexable.
https://datayze.com/index-noindex
Enter in your website address in the URL to check: and click the Check button.. If everything is o.k.
You should see similar results below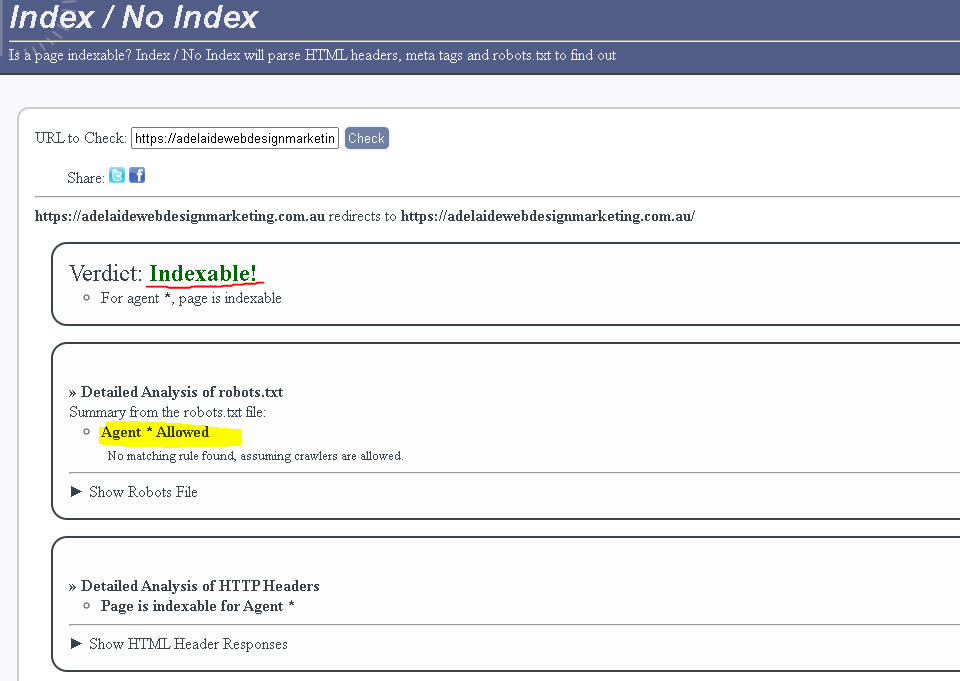 If your site is NOT indexable then we have a couple of options you can use.
You can generate a robots.txt file using our SEO Tools, or create one manually
You can easily create this in Notepad or your text editor and upload this file to the root of your website if it is missing.
The general layout for the robots.txt file to allow you site to be indexed is below.
The syntax to allow all bots to index your site is below.
User-agent: *
Allow: /
If there is content or directories you prefer not to have publicly indexed or listed on the internet than you will need to Disallow them with the Disallow entry.
Step 4: Make Sure your Site has a Sitemap.xml file so Google can index you better
A sitemap lists URLs that are available for crawling for your website and can include additional information like your site's latest updates, frequency of changes and importance of the URLs. This allows search engines to crawl the site more intelligently.
In the SEO Audit Review report check the "SEO Section" and look for the "XML Sitemap" is showing a green tick as passing that test.
Or another simple way is to enter in the your web browser
http://www.yourwebsite.com.au/sitemap.xml
If one exists then it will display a list of code in an XML format.
If however your site does not have a Sitemap.xml file it can be easily created manually.
If you are using WordPress as your Content Management software for your website there is a plugin to create your SiteMap
We recommend that you generate an XML sitemap for your website and submit it to both Google Search Console and Bing Webmaster Tools.
It is also good practice to specify your sitemap location in your robots.txt file.
Step 5: Check to see if your Website is Mobile-Friendly
New statistics show that 60% of Google Searches are now coming from Smartphones.
Google has started using their Mobile First Algorithm for searches.
So the most important factor according to Google is to have a Mobile friendly website or version that is compatible for mobile screens.
This is referred to as having a Responsive Website Design, where the web design scales dynamically according to which device or screen type is viewing the page.
So to check your website to see if it is Mobile-Friendly compliant, use Google's Mobile-Friendly Testing Tool
Step 6: Check your Website loading speed in acceptable
Fast website loading speed is another important factor for Google Search Engine Optimisation and for customer experience.
So how do you know if your website is loading fast?
There are two testing sites that give you excellent results and break down every area of your website where you can improve on your website loading times, and web page speed.
Google's own PageSpeed Insights
The other one (is my favourite) is GT Metrix which gives you a complete breakdown of your site loading speed and grades your webpage based on metrics.
GTMetrix is super easy to use and provides optimization tips and recommendation to improve your sites speed and performance.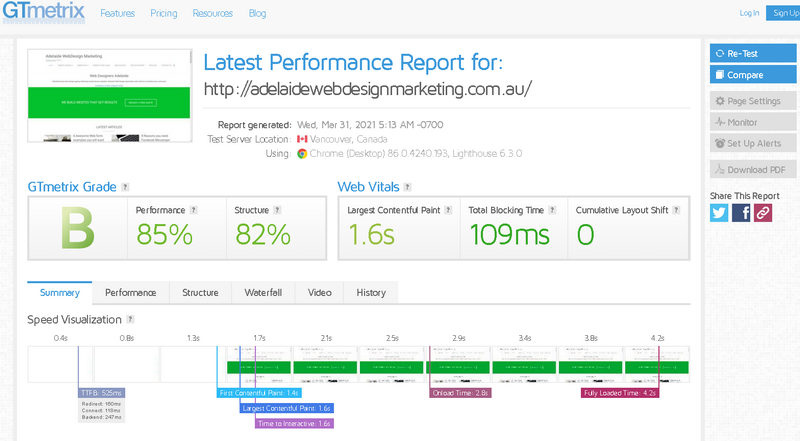 Good Job! Now we move onto the SEO 'On-Page Technical' checks
Step 7: Find and locate orphan pages on your site
Now we are moving on to the On-page part of the checklist where we check and identify technical issues.
Once Google indexes your website you may discover some in-complete pages or orphan pages that you should look at removing from the Google index,  as this may go against your SEO page rankings.
Or update the existing page and make sure you have relevant content for that page.
Enter the following into Google Search and see if you have found pages that Google has indexed that you may want to have on the Listing
site: yourwebsiteaddress.com.au
Step 8: Perform an On-page SEO Audit review to identify any Technical errors with your site
On-page SEO issues on your website can be difficult to spot and therefore using an SEO Audit Review tool to scan your website and identify issues is the best way to discover them.
Your homepage on your website should be setup correctly and the SEO Audit Reviewer Tool can discover issues within 60 seconds.
A SEO Audit review score of 70 or more means your SEO is quiet good, identify and resolve any errors it discovers and then work through the items that Needs improving.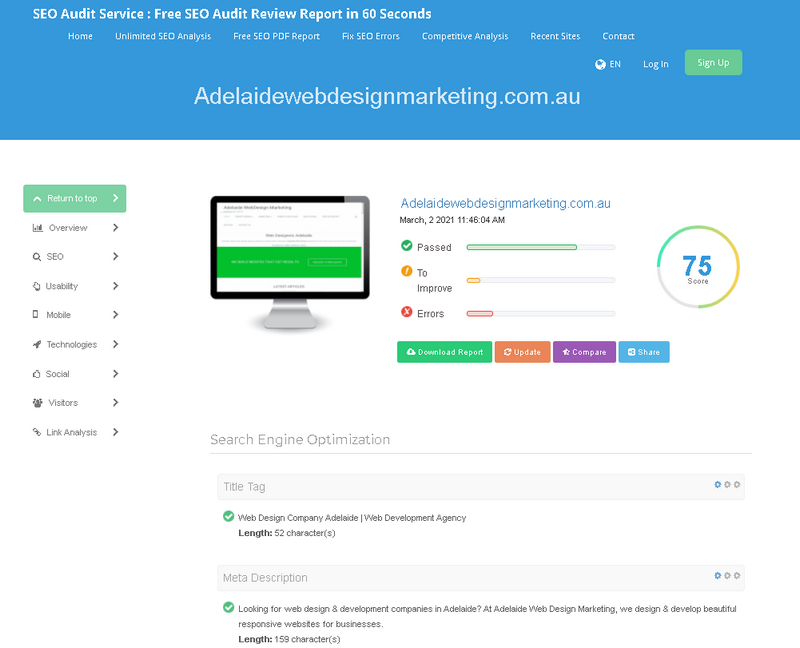 Step 9: Check for broken links on your site and fix them
For SEO and User Experience having broken links on your site will provide a negative experience for your users and also your SEO rating in Google.
Your website may contain tens or hundreds of links on your site, but how do you know if you have any broken links on your site?
Imagine trying to do this task manually!
The SEO Audit Review tool will also detect any broken links you may home on your site as well if you don't have a 404 page not setup.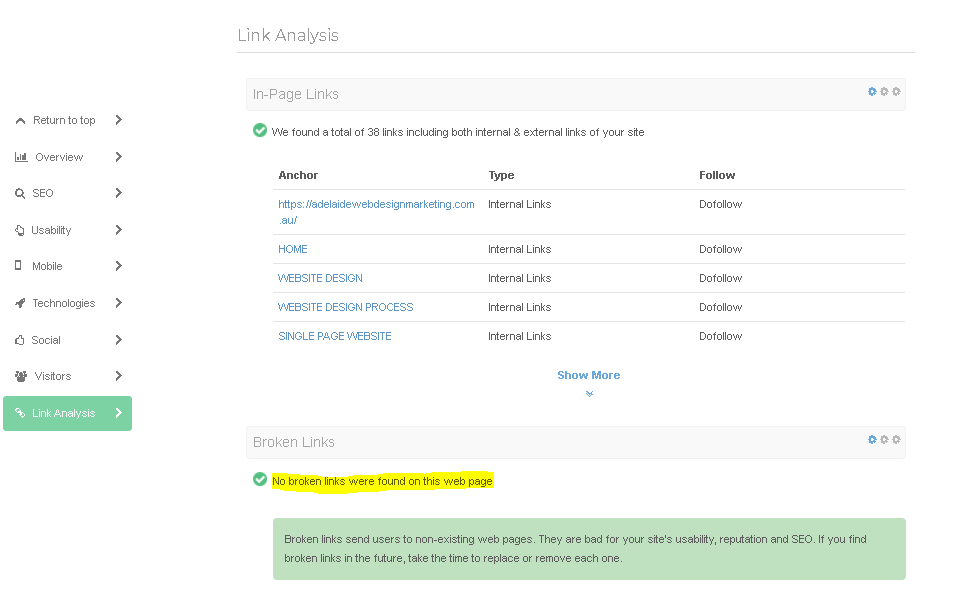 There is a simple tool that can scan through all your links and produce a nice little report of any 404 errors (page not found) it encounters.
The tool is called Broken Link Check
Simply enter your websites URL and it will go off and do the hard work for you.
After the tool has completed its crawl through your website you will then need to remediate your broken links by linking to content, or removing the links.
Step 10: Check that all listed pages and posts are indexed by Google
Using the Google Search Console, which is a free tool, allows you to deep dive into which pages google has indexed for your website.
To use the Google Index Coverage Report go here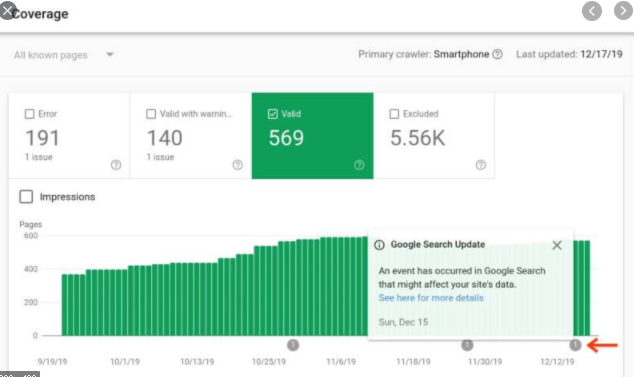 But if you want to quickly discover in Google how many pages have been successfully indexed go to google search engine and type in the google search box site:yourwebsite.com.au
The search results shows pages Google knows about your site.
The structure of your website headings and keywords are critically important with how search engines index your content and map them against keywords.
Having a well-laid out Headings and keywords that correlate to your content will provide an easy way for the reader to identify the topic of information.
H1 heading tags are main headings, and H2 tags are for sub-headings, and H3 Heading tags are for sub-titles right through to H6 tags.
On your SEO Audit review report, look for the section "Headings" this will show you if you have any missing headings in your website. It's important that your homepage has at least 1 H1 Heading tag and use your use your most important keywords in the Heading title.
Never use more than one H1 Heading tag per page, instead use H2 or H3 tags.
Step 12: Check your Title Tags and Meta Descriptions are present and are the correct length
Title Tags and Meta Descriptions are a major factor in assisting search engines understand what your page and website is about.
They are the first impression many people have of your website.
When you search for a particular keyword in a Search engine you are then presented with a Search Engine Results listing page containing a list of results displaying matches in a brief summary.
Here is a preview of what your website looks like in a Google Search listing

The title in blue and the text in black match what you have in your Title tags and Meta Description of of your site.
Your Title tage should be no more than 70 characters and your Meta Description should be no more than 300 characters.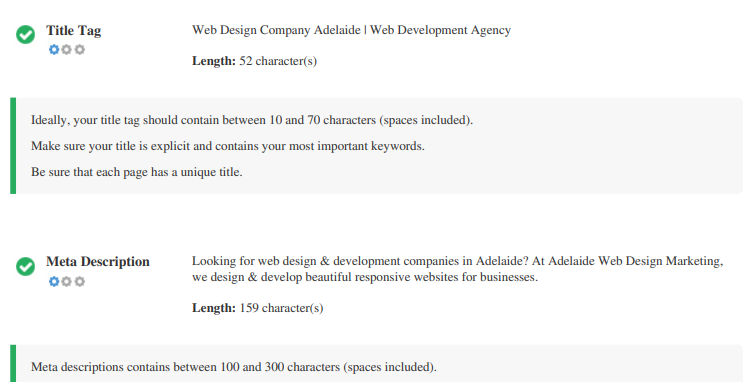 So it's critically important to get this right.
While Title Tags & Meta Descriptions are used to build search result listings, the search engine may create their own if they are missing, not well written or not relevant to the content of the page.
Title Tags and Meta Descriptions are cut short if they are too long, so it's important to stay within the recommended character limit.
Ensure you have your most important keyword listing in the Title Tag and in the Meta Description and ensure it summarizes your page or website accordingly.
Run a SEO Audit Review to check your Title Tag and Meta Description are present and the length is correct.
Step 13: Submit your content to Google and trigger a Re-crawl of your website
Once you have fixed up all your Technical SEO Issues it's time to ask Google to recrawl your websites URLs.
This is also important when you add new pages, content or you have changed the structure of your site.
There are two crawl methods Google uses;
If you have made some changes to a few pages then you can use the
Google URL Inspection Tool

Google URL Inspector Tool

If you have made bulk changes to your site and you want to update all your pages then you can submit a sitemap
If you are not sure how to do it.. Then check out this video below on how to use the URL Inspection Tool.
This SEO Audit Checklist for 2021 will give you actionable tasks to resolve your SEO issues.
Once you have gone through the checklist and remediated the technical issues, your site will be better optimized for the Search Engines and it will be in good shape to be ranked higher over your competitors.
There is also more to SEO than just a SEO Audit Checklist and other things to consider for beating your competition and outranking them.
Some of these things are to analyse your 'Off Page SEO ranking factors' like External Backlinks, Internal Links, Domain Authority, Page Authority, Branding and Trusted Source for information.
The search ranking metric that has a higher weighting for Authority is External Backlinks.
Backlinks are links on other websites that point to your website, also known as Referred links.
Overtime websites can link to your content organically if you produce high quality content and it is relevant.
To Discover how many backlinks your website currently has just run the
SEO Audit Review Tool and check the 'Backlinks counter' section and 'Link Analysis' section to view your internal and external links for your website.
If you would like a free copy of the 13-Step SEO Audit checklist 2021 in an Spreadsheet, simply like and share this post below and then Click Download Now below then you will receive it!

If you are new to SEO and you would like a free assessment, simply get in touch with us here
SEO Agency Adelaide: The 13-Step SEO Audit Checklist for 2021
If you liked it.. Share it!