If you liked it.. Share it!
6 Awesome Web form examples for your website
A Web form is a digital online form that accepts users entered information that is sent to the website owner or business.
Web forms allow you to collect and manage information easily and efficiently.  Web forms are crucial tools for businesses to obtain the information they need from their potential customers.
Importance of Contact Forms on websites
Website forms are usually embedded right into your website. However, these can be added to your website by means of a pop-up or additional page added to your site. If you own a business and you have a static website the only way customers will be engaging with you is via your contact phone number or location address. One of the best ways of capturing new leads and customers is having at basic Contact Us form. A simple 3 field Contact Us form that can be placed either on your homepage, landing page on your Contact Us page on your website.
The beauty of this, is now customers have another way of getting in contact with you. You may operate a business which is hard to always get to your phone to answer customer enquiries etc.
Below are 6 Web form examples that will help save you time and money, whilst also improving you customer experience.
Example 1: Contact Us Web Form
Adding a Contact Us Form to your website can increase customer satisfaction, knowing that there is other means of getting in contact with a business, if you are unable to take customer phone calls. In a real world scenario, a customer's business phone number was unavailable for over a week and the only means for clients to contact them was via their website with the Contact Us form.
The Contact Us form was customized to send to relevant people in their departments about customer enquiries. Each form entry was logged in the database and an email was sent to the Departments main contact person.
Below is Basic Contact Us Form that has required fields like, Your Name, Your email, Your Phone and a message area for the person to enter a message to the company.
Example 2: Quote Web Form
Save time with an online quote form, where your customers can request a Quote for a service or job straight from your website. The time and hassle to call and leave messages with a businesses and to get someone to respond and come out to see you is very inefficient.
A simple quote form on your website can capture the leads contact details like First Name, Last Name, Email Address, Phone number in your database. You will also receive an email from the form submission straight to your inbox with all the Quote request details.
If your products or services have standard hourly rates or billing, you can have an automated email responder send the information to the person requesting it online so it becomes a fully automated process.
If your charges are standard for your service or product you can save time by having an Estimate Form, in the example below we can have an estimated price emailed to the customer depending on which options they select within the Quote Form.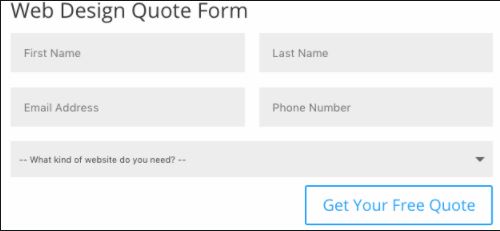 Example 3: Appointment Request Web Form
Do you operate a Services business and record client details over the phone? To free up your time there is another way for clients to easily book appointments by filling out an Appointment Request Form from your website. Most people don't have time to be put on hold or sit around in a queue to be answered by the receptionist.
A quicker way is to have an Appointment Request form that is easy and simple to fill out and allows flexibility for both client and the business to book appointments.
Capturing basic client details can be saved into your database and an automated email response can be sent to the requester to say they have received the request and the booking will be confirmed by email or text message.
Check out this simple Appointment request form below.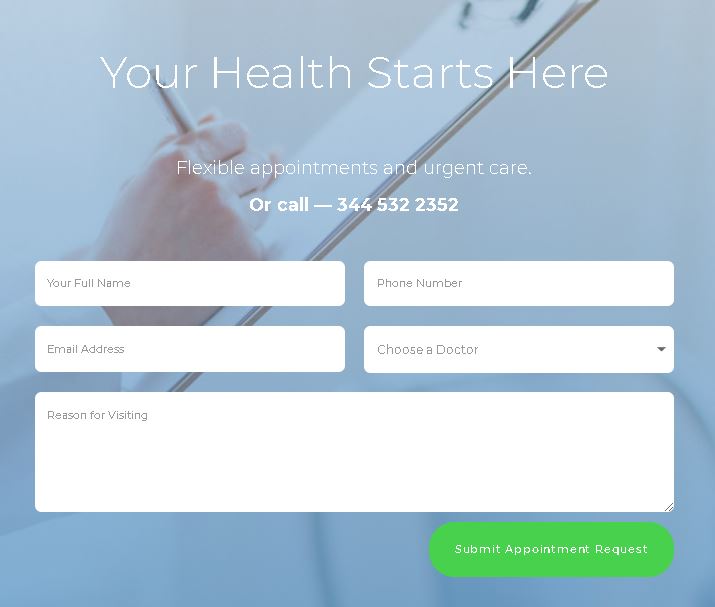 Example 4: Send a Message Web Form
A nice customer experience is to offer the ability to send a quick message from your website.
When you close up for the day let you website and web form do the work for you by capturing the Out of hours enquiries and messages.
This can be a very effective tool for the business owner and for customers needing to send a quick message.
A small pop-up form or contact button on the website can be visible and when clicked can display a "Send Us a Message" form.
This is a super cool and easy way to get your message across.
Below is a nice and simple form that can be available on your website for customers to use.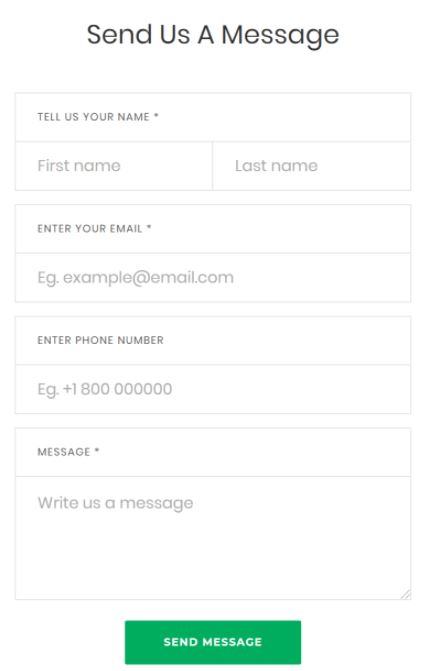 Example 5: Sign Up Web Form
Providing a Sign Up Form on your website will allow you to take customer registrations, client details for events, groups etc. You may have an online service where customers can sign up for the service or plan straight from your website, without them filling out any manual forms to send in by paper.
This could be access to a "member's only" section where they can access private member online information, price lists and tools you have for registered users. Sign Up forms are very popular, as it allows you to capture customer details where you may be able to send them information of new offers you have in the future.
Below is a sign up form for an online service where you can create one-page websites, it's a simple form where there is required fields, and drop down boxes to select your plan and the type of page that you want to create.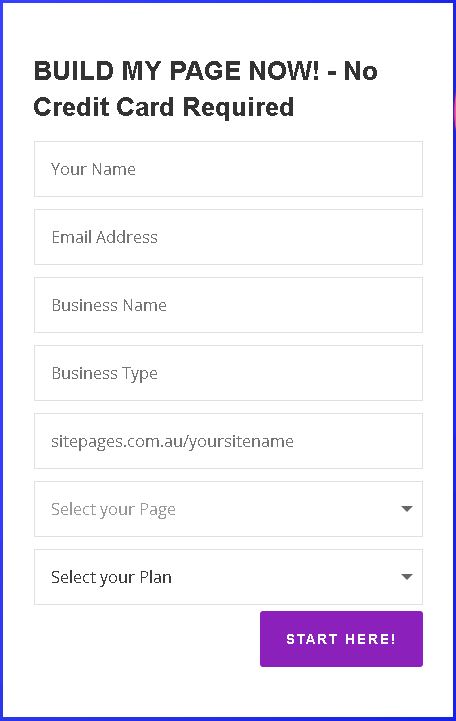 Example 6: Lead capture Web Form
A very popular way of gathering leads for your company is to setup what is know as a Lead capture form. These may pop-up or be visible on a companies web-page where they are giving away free Guides, Information sheets useful information for the visitor in exchange for their email address.
The email address is captured by the website and a email will be sent to the lead with a guide attached or downloadable within the email. This is an excellent marketing tool to attract interested people to know more about your products and services.
Below is a pop-up form that is displayed on a webpage when a user is about to exit the site allowing them an opportunity to download the free guide. This could be useful is you have a product brochure where the information can be downloaded from the website.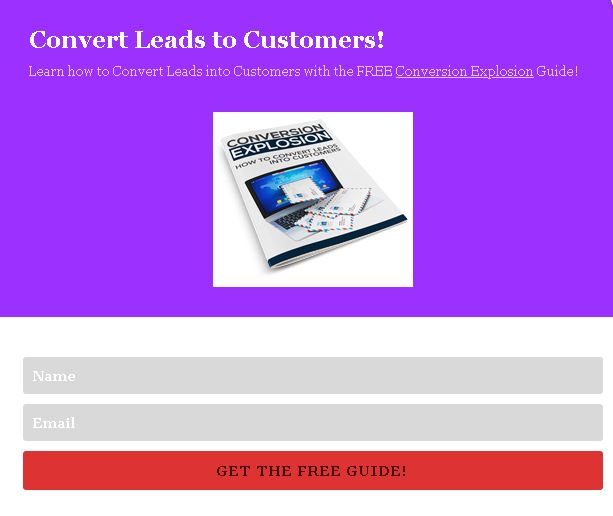 How do I get a Web Form on my website?
There are a number of ways you can get a Web form on your website.
If you have Admin access to your website or you own it, then you can login to the site and most website editors will have an options to create or add the web form to your site on the homepage or on another page. The instructions for each type of website editor is different so it is best to consult with your web hosting company.
If you are using WordPress for your website, WP Forms is an easy to use plugin that allows you to easily create a WordPress form.
How to create a simple contact form in WordPress
or Pop-up form with step-by-step instructions.
How to create a pop-up form in WordPress
If you are not technical and not sure how to do it, and need some assistance let us know.
We can provide a service where we can design and add a form to your existing website.  We have web designers that can assist you.
The first thing you will want to work out is what is it you are wanting to achieve? By answering that question we can design and build a web form to meet your needs.
Just reach out to us here at Adelaide Web Design Marketing with any questions please fill out the Contact Us form.
6 Awesome Web form examples you will want for your website
If you liked it.. Share it!