If you liked it.. Share it!
So, why is Adelaide Web Design & Marketing right for your business? Sure, many companies offer what we offer, but can they deliver as we do? It is our passion to develop and design visually impressive websites that offer user-friendly experiences. The web services in our repertoire include the design of E-commerce websites, WebForms, online booking appointments, quote forms, business sites, online stores and email marketing using the latest technologies. In addition to these services, we use top-tier web design platforms such as Woocommerce and WordPress on lightning fast hosting.
A Dedicated Team To Support Your Business
We have a dedicated team focused on helping businesses like yours with their online presence, Facebook marketing, email marketing, SEO (Search Engine Optimisation) and digital marketing. We expertly craft absorbing website designs to make sure that you stand out among your competition and meet your growth potential – and within your budget.
Responsive Website Design
With us, you can expect a responsive website design. Such a design will allow your users to view your site from any device. Would you call your business site beautifully designed and responsive? If not, it may be time to revamp it.
Some of our responsive websites include:
Single Page Website – list services and contact information
Business Website – show off your business services or products
Ecommerce Website – you have downloadable, virtual or physical products to sell.
Website Design Standards
We make sure to handle common issues like resizing, slow loading times and challenging navigation. We fine-tune our website design formulas to ensure that the end product upholds our high standards.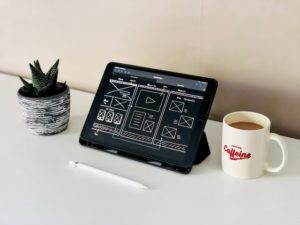 Websites That Keep Visitors Tuned In For Longer
An example of an industry challenge would be how some sites don't scale well on smaller screens which makes the text hard to read. If there is a constant need to zoom in to see content, users are unlikely to stick around and turn into customers. We make sure that your leads stay a while and get acquainted with what you can do for them. This could lead to an increase in conversions, which improves your bottom line.
With Adelaide Web Design & Marketing, you are guaranteed correct displays across all devices and browsers by conforming to Website Design standards. Aside from this, we have high benchmarks that each aspect of your site design will surpass.
Our web design strategy session covers site design, layout and usability. A key area is keeping your leads engaged in your content. The content is the key to conveying your message and drawing them in. This is what allows a lead to become a customer. Think of it like going into someone's home and you get a good vibe about the person. The same is for a website. As soon as a visitor lands on your website or landing page they instantly have a good feel vibe and this can be visually pleasing as well and as engaging content.
Getting the right message across and building a connection to a visitor needs planning and careful presentation of your site, to make it perfect win for you and your customers.
Stand out now with a professional website or online store. With our help here at Adelaide Web Design & Marketing, we can turn your dream website experience into a reality.
Web Design Adelaide: Leader in Website Design
If you liked it.. Share it!