An Inside view of Why You Should Hire A Web Design Agency
Starting a business costs a pretty penny and with all of the other business tasks that need financing, it seems pretty tempting to skimp where you can. For some new businesses, this means asking personal acquaintances for favours and freebie website setups. However, choosing this route should be avoided. The end result could be damaging and would leave you wondering why you didn't hire a Web Design Agency.
The Downside Of Not Choosing A Website Design Agency
Asking for any computer-savvy person's help with your company's web design may save you the cash but it won't save you the hassle of needing to redo or repurchase the domain if you have used your company's name and something goes wrong. Sure, you'll get a website but an average, extremely basic one at that. These basic so-called 'websites' which lack as much technical innovation as they do aesthetic appeal and originality will cause heaps of lost business revenue thanks to their below average web design which doesn't convert visitors nor shows your business in a beneficial online light.
A website is a great asset to have in working order, so why go basic when you can go brilliant. Think about it. What do you do if you are looking for something? You Google it. This habit makes your business website your most valuable marketing tool; therefore, it should shine. Here are the main reasons why you should hire a professional web design agency to set up your online presence and create a professional, innovative SEO-rich website that grows your brand online and brings customers to your door.
A Professional Web Design Pays For Itself
There is no need for 'it will do' syndrome when it comes to the best web design. Paying a professional agency upfront to create a top-notch website that ranks well on online search engines, instead of saving cash by going with a so-called-tech-savvy friend or the DIY route, means you're paying for a website that will pay for itself in the short run. Paying a professional means you're paying for all the skills, knowledge, web development programmes and advanced back-end gadgets which propel your website into the online sphere and keep it ranking.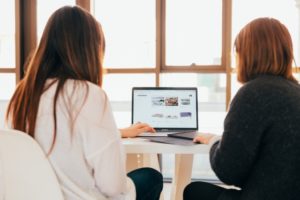 It Will Function as It Should
With the help of a professional, your business website will be seen, and online viewers are more likely to stay longer and learn more about your product or services thanks to an attractive, user-friendly web design which keeps them lured in and clicking through the web pages time and time again. Your domain and website will also be maintained the way that it should, with
regular software and security updates, no lagging page downloads and no website malfunction at any given time.
It's An Investment
Investing in a quality website for your business means that you are investing in the success of your business. Studies show that the quality of a website directly links to the high likelihood that a sales lead or purchase will come out of it. This is because your website is a tool that is meant to offer the best user experience possible and one which persuades online users to purchase your product or service. The endgame is turning viewers into customers and good web design created by professionals will help you with that.
If you are ready to invest in your business and start getting returns, we can help create and maintain your online presence with professional web design solutions in Adelaide. Contact us today for a web design that is designed to get you noticed on the web.
Why You Should Hire A Web Design Agency